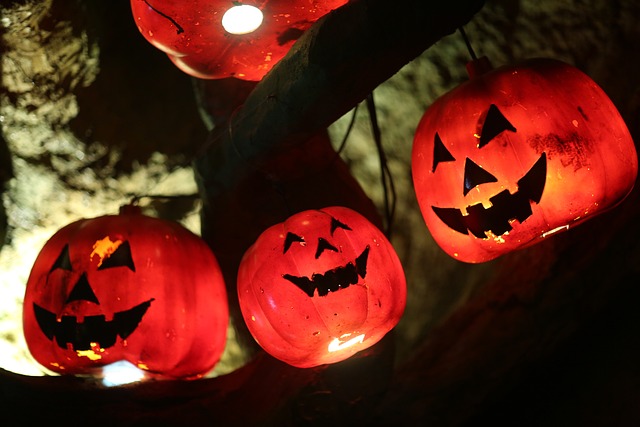 Think about the question in light of this important teaching of Jesus.
You are the light of the world. A city set on a mountain cannot be hidden. Nor do they light a lamp and then put it under a bushel basket; it is set on a lampstand, where it gives light to all in the house. Just so, your light must shine before others, that they may see your good deeds and glorify your heavenly father.

(Matthew 5:14-16)
If we are to be the light of the world, would it not be helpful to educate our children about the evil behind the Halloween traditions? Would understanding the the roots of Halloween be helpful to counteract that evil? In and of themselves, carved pumpkins, costumes, and trick-or-treating are not evil. But there is a dark side to the celebration as evidenced by the focus on witches, and dark, satanic arts.
But let's backup and see where Halloween originated. The early Christian Church commemorated the death of martyrs to the Christian faith on All Saints Day which in the western church falls on November 1. The day was also known as All Hallows Day (hallowed or sacred/set aside)and night before the Christian remembrance day became Hallows Eve'n which through time became Halloween. As Christianity overtook the pagan cultures of Europe, missionaries sought to Christianize pagan celebrations, and the harvest festivals, merging the two. The Celts saw the return of darkness after the light of summer as a time when the god of death, scattered evil spirits throughout the world to attack humans by playing nasty tricks on them. Carving up pumpkins and gourds and placing candles in them were thought to ward off evil spirits.
Commercialization of the holiday has become so firmly entrenched in the Western "Christianized" world that few Christians think about how participating in Halloween is, in some ways, a denial of their own faith.
If parents feel they want to engage with the Halloween tradition in a way that helps children use pumpkin carving to draw closer to Jesus, you may want to use this prayer.
Dear Jesus,

Open my mind so I can learn about You. As you cut the top of the pumpkin, talk about ways God helps us to learn about Him and why we need to be open to what God wants to do in our lives. "Know that the Lord, He is God." (Psalm 100:3)

Take all my sin and forgive the wrong things that I do. Scoop out the inside of the pumpkin to show how God removes our sins (seeds of disobedience, impatience, jealousy, hatred) and forgives us. He cleanses our hearts and makes us a new creation! Show how clean the inside of the pumpkin is now."If we confess our sins, He is faithful and just to forgive us" (1 John 1:9)

Open my eyes so Your love I will see. As you carve the eyes in the shape of a heart, discuss how God's laws are to protect us from harm, and that he has given his Word (and all good things) because of his immense love for us. "Open my eyes that I may see wonderful things from your law." (Psalm 119:18)

I'm sorry for times I've turned up my nose at what You've given me. Carve a cross-shaped nose and ask, "What does it mean to turn our nose up at something? 'Turning up our nose' means we don't like it. Sometimes we don't like a certain food or toy or shirt. When we are not thankful and grumble about what we have (or don't have), we are complaining against God. But we have been given so much! When we remember that Jesus died on the cross for us, we know that God has given us all we really need." "…be thankful unto Him, and bless his name." (Psalm 100:4)

Open my ears so Your Word I will hear. Carve the ears into a rectangle to represent the Bible and ask, "Do your parents ever have to tell you to do something more than once?" Just like our parents, God wants us to listen to Him. In the Bible God tells us about how much He loves us, how He wants us to live, and how He will help us. "Incline your ear, and come to Me" (Isaiah 55:3)

Open my mouth to tell others You're near. Carve the mouth into the shape of a fish. Jesus told His disciples that they would no longer catch fish but would instead fish for people by telling them about God's love for them. We can be "fishers of men" and use our mouths to tell others about Jesus, too. "I shall . . . declare the works of the Lord" (Psalm 118:17)

Let Your light shine in all I say and do! Amen. Light a candle and place it inside the pumpkin. The light stands for the Holy Spirit that lives in us. When we are open to God's work in our lives, He can shine through us so others will see Jesus in us. Then our friends and family will be drawn to Jesus, too! Jesus said, "Let your light so shine before men, that they may see your good works and glorify your Father in heaven." (Matthew 5:16)